Spotlight On: Temple Bat Yam Brotherhood of East Fort Lauderdale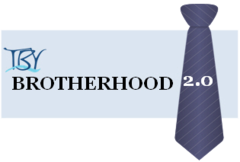 Our future is limited only by our enthusiasm and ideas for engagement.
Temple Bat Yam (TBY) of East Fort Lauderdale is a Reform congregation dedicated to exploring and embracing Jewish heritage from a liberal perspective. The Temple encourages lifelong Jewish study through its educational programming for children, families and adults. During communal Shabbat services and observance of the High Holy Days and Jewish festivals throughout the year, TBY encourages a meaningful ritual life which fosters solidarity with the Jewish people while embracing individual diversity.
The Temple Bat Yam Brotherhood 2.0 represents a re-energized, re-vitalized and re-organized vision for community building. Our future is limited only by our enthusiasm and ideas for engagement. Activities include social action, sporting events, family initiatives, Jewish identity building and mentoring. The Brotherhood supports the Shul and religious school by offering BBQs, putting up the community sukkah, Purim and other activities throughout the year.
The TBY Brotherhood recently held a successful field trip to LoanDepot Field for Marlins Jewish Heritage Day.
Looking ahead to 5783, there are more social opportunities in the pipeline. Stay tuned and please stand by.
Brotherhood President Evan Goldman invites you to join the TBY Brotherhood and be part of the future. Learn more about Temple Bat Yam Brotherhood at https://www.templebatyam.org/join-brotherhood and visit the Bat Yam Facebook page at https://www.facebook.com/TempleBatYam. For more information about the Bat Yam Brotherhood, send an email to: [email protected].
This message is brought to you by the Florida Region of the Federation of Jewish Men's Clubs. We serve the needs of Jewish Men's Club's and Brotherhoods across the State of Florida from the Panhandle to Tampa to Miami and beyond. If you are not yet affiliated with the Federation, then today is the day to join us.
Get to know more about the FJMC Florida Region and our growing statewide network of Jewish Men's Clubs and Brotherhoods at www.floridaregionfjmc.org and please visit and LIKE our Florida Region FJMC Facebook Group at www.facebook.com/FloridaRegionFJMC.
About Post Author