Spotlight On: Temple Beth Am Brotherhood of Pinecrest, Florida

Temple Beth Am is known as the House of the People
There are over a hundred Synagogues, Men's Clubs and Brotherhoods spread across the State of Florida and some of them have the same name. There are there many synagogues named Beth Am in the state of Florida however there is only one Temple Beth Am in Pinecrest.
Temple Beth Am is known as the House of the People. Founded in 1955, Beth Am is is located in the Village of Pinecrest in South Miami-Dade County. They are a nurturing and caring Reform congregation committed to Jewish continuity, life-long education, spiritual renewal, life-cycle transitions, Shabbat and holy day celebrations. Beth Am offers religious, educational, cultural, social and athletic programs that meet the dynamic needs of the South Miami Jewish community.
The Brotherhood of Temple Beth Am offers opportunities to the men in our community to expand their circle of friends, become involved in our Jewish life, participate in exciting activities and contribute to our Congregation.
Join the Beth Am Brotherhood to develop long-lasting relationships based on common interests and support the Temple's mission. Join Brotherhood and be inspired to enrich and improve your life, the Congregation and the broader community.
Brotherhood will start their 2022/2023 season on a high note on Thursday October 20, 2022 with a special opening event. All men and women of Temple Beth Am are welcome to attend a magical, musical evening with "From Klezmer to Rock…The Special Relationship Between Jews and Violins", a musical presentation by Alexander Mikhaylovsky, violin and Dr. Alan Mason, piano. This event which includes a catered dinner by Michael's Catering and is FREE to all paid up 2022/2023 Brotherhood members , $36 for guests. To RSVP and reserve your seat visit: https://events.veracross.com/tbam/473-Brotherhood-Opening-Event–Klezmer-to-Rock.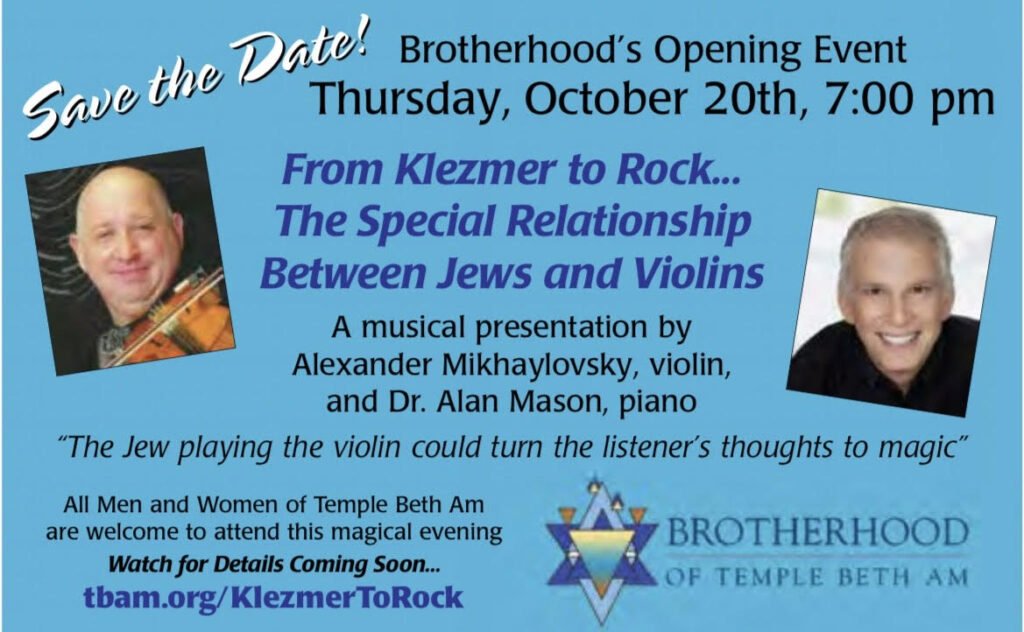 In the September 2022 issue of Beth Am's monthly bulletin 'The Commentator', Jeffrey Rosenberg introduced himself as the new Brotherhood President and he shared Brotherhood's strategy for the coming year:
"We have an amazing Executive Management Team and industrious Brotherhood Board this year. Brotherhood's plans for 2022–2023 include working with Tikkun Olam, YERS, Rambam Day School and the Temple's lifecycle and holiday programming."
"Our focus this year is to partner with community organizations and non-profits to provide awareness, community service and fundraising, such as support for Ethiopian Jews, Everglades Men's Correctional Facility, other Brotherhoods regionally and in Israel, youth development and sporting activities."
"Of course, we will socialize at fun events throughout the year — such as attending Miami Heat, Miami Dolphins and Florida Marlins games, men's cooking classes, Frisbee Golf and TBAM's annual Golf Tournament, plus impromptu Final Four, Super Bowl and college sporting events watch parties."
For more information about the Temple Beth Am Brotherhood of Pinecrest, please email Brotherhood President Jeffrey Rosenberg care of [email protected] with the subject line BROTHEROOD. Learn more about the Brotherhood at https://www.tbam.org/campuslife/welcome-to-brotherhood./ and visit the Beth Am Facebook page at https://www.facebook.com/BethAmMiami.
The Temple Beth Am Men's Club of Pinecrest is one of the many active, dynamic and vibrant Jewish Men's Clubs and Brotherhoods that populate the Sunshine State.
The Florida Region of the Federation of Jewish Men's Club's serves the needs of Jewish Men's Clubs and Brotherhoods throughout the State of Florida. If you are not yet affiliated with the Federation, then today is the day to join us.
Get to know more about the FJMC Florida Region and our growing statewide network of Jewish Men's Clubs and Brotherhoods at www.FloridaRegionFJMC.org and please visit and LIKE our Florida Region FJMC Facebook Group at www.facebook.com/FloridaRegionFJMC.
About Post Author