Spotlight On: Temple Beth Am Men's Club of Jupiter, Florida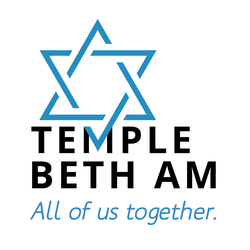 There are hundreds of Synagogues, JCC's, Chavurot, Men's Club's and Brotherhoods in Florida and some of them have the same name. Did you know there are at least five synagogues named Beth Am in Florida? Northeast of Orlando is Beth Am Longwood, with Beth Am Tampa to the West, Beth Am Margate (Broward) / Beth Am Pinecrest (Miami) to the South and Beth Am Jupiter to the East.
Today we are going to take a deep dive into the Beth Am multiverse and shine a spotlight on the Temple Beth Am (TBA) Men's Club of Jupiter, Florida.
Located in the northeastern corner of Palm Beach County, midway between West Palm Beach and Stuart, Temple Beth Am of Jupiter is affiliated with the Union for Reform Judiasm. Rabbi Alon Levkovitz describes Temple Beth Am as a nurturing and engaged Jewish community whose members care for each other, the Jewish people and Israel. All Jews and those who love them are welcome at Beth Am without exception. The Beth Am family includes those born into Judaism and those that chose Judaism, the young and the old, families considered traditional and interfaith, those who are single and those who are married and those who are LGBTQ+.
Temple Beth Am Men's Club President Barry Ogrin is proud to be part of the Beth Am community. "We have had an active and viable Men's Club for over fifteen years", said Barry, "with 80 to 90 current members. The Temple Beth Am Men's Club is more than just a social club; we are an organization through which Jewish men find inspiration by participating and being more involved in our synagogue."
The Beth Am Men's Club will open their fall 2022 schedule with a Picnic in the Park on Wednesday September 14 at 5:30pm at the Anita Lanker Pavilion in Ocean Cay Park, Jupiter. Everyone is invited to join the TBA Men's Club for some Barbecue and Brotherhood; we will be serving hot dogs, hamburgers / veggie burgers, cole slaw, drinks, chips and dessert. The cost is only $10 per person and reservations are required, please RSVP to [email protected] by Friday September 9.
Our annual kick-off dinner will be held at the Marquis Restaurant on October 26, hosted by Cindi & Scott Ackerman. The restaurant is located on the 16th floor of The "Tiara" on Singer Island and offers breathtaking views of the Atlantic Ocean and West Palm Beach. And to change up our routines, this year, we will now have a monthly luncheon at noon in the Temple Chapel for all the men in the congregation starting on Monday, September 19, featuring food from a local restaurant. Every other month we will continue with membership meetings at the Temple followed by dinner at a local restaurant.
Our Veterans Day Breakfast will take place on November 13 at 9:30am, something we haven't done in several years. In the spring, we are planning to bring back our popular Progressive Dinner, our Sports Breakfast, Yom Hashoah Service, and another picnic at the beach. We are also planning a bus trip to watch horseracing at the Gulfstream Park in Aventura.
Your Men's Club board elected new officers for the 2022-2023 season with Barry Ogrin, President; Rick Levine, Vice-President; Harvey Silverman, Treasurer; and Scott Ackerman, Secretary. Other directors include Mel Wolfe, Jerry Roman, and Steve Nichols. Please feel free to reach out to any of these gentlemen. This is YOUR Men's Club and we do listen to you. We continue to sponsor events and programs as circumstances allow. or have comments to share with us, please contact us via email at [email protected]
For more information about the Temple Beth Am Men's Club, please email Men's Club President Barry Ogrin at [email protected] or Vice President Rick Levine at [email protected] Learn more at https://www.TempleBethAm.com/community/mens-club.
The Temple Beth Am Men's Club of Jupiter is one of the many active, dynamic and vibrant Jewish Men's Clubs and Brotherhoods that populate the Sunshine State.
The Florida Region of the Federation of Jewish Men's Club's serves the needs of Jewish Men's Clubs and Brotherhoods across the State of Florida from the Panhandle to Miami. If you are not yet affiliated with the Federation, then today is the day to join us. Get to know more about the FJMC Florida Region and our growing statewide network of Jewish Men's Clubs and Brotherhoods at www.FloridaRegionFJMC.org and please visit and LIKE our Florida Region FJMC Facebook Group at www.facebook.com/FloridaRegionFJMC.
About Post Author