Spotlight On: The Temple Beth El Men's Club of Bradenton / Lakewood Ranch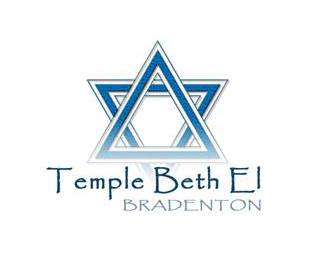 For the past several months, the Florida Region of FJMC has been reaching out across the Sunshine State and doing outreach to many newly "discovered" Men's Clubs and Brotherhoods as we lay the foundation for future growth. Today we will shine a spotlight on one of these newly discovered clubs, Temple Beth El Men's Club of Bradenton / Lakewood Ranch; located on Florida's Gulf Coast, South of Tampa Bay and North of Sarasota.
Temple Beth El began in 1974 when a small group of families came together to serve help nurture a Jewish presence in Manatee County. Their website describes Beth El as an inclusive, caring, egalitarian congregation that is open to all who wish to worship.
Mitch Rubinstein recently became President of the Beth El Men's Club and outlined his three goals for the coming year.
"The first is to serve the synagogue; things like setting up the seating for the High Holidays, assembling and taking apart the sukkah and hopefully raising some funds through our other activities.". The second goal is to serve the community at large while creating good will for the Temple. We have a working relationship with Meals on Wheels and do things such as packing vegetables and making sandwiches. We also have a relationship with Habitat for Humanity. Traditionally, we have done a joint effort with a local mosque for a multi-cultural event. Finally, our third goal is to have fun and promote camaraderie among the members."
The Temple Beth El Men's Club is planning to host a breakfast meeting on Sunday, October 16 and Mitch Rubinstein extends his personal invitation to come out, meet the guys and be part of the future of Judiasm in Manatee County. Some upcoming programs include a trip to an elephant sanctuary and a night of axe throwing in Sarasota Men's Club is also planning to co-sponsor some fun events with the Sisterhood in the coming months, including a tour of the Bunker Hill Winery (November 20) and a visit to the Sarasota Classic Car Museum with a Neil Diamond tribute band.
Mitch Rubinstein invites you to learn more about the Temple Beth El Men's Club and the rest of the TBE community at https://www.bethel-fl.org/our-community, visit the Temple Beth El Facebook page at https://www.facebook.com/TBEBradenton/, or send him an email at [email protected].
The Temple Beth El Men's Club of Bradenton / Lakewood Ranch is part of a tapestry of active Men's Clubs and Brotherhoods that are located in the Sunshine State.
This message is brought to you by the Florida Region of the Federation of Jewish Men's Clubs. We serve the needs of Jewish Men's Club's and Brotherhoods across the State of Florida from the Tallahassee to Tampa to Miami and beyond. If you are not yet affiliated with the Federation, then today is the day to join us.
Get to know more about the FJMC Florida Region and our growing statewide network of Jewish Men's Clubs and Brotherhoods at www.floridaregionfjmc.org and please visit and LIKE our Florida Region FJMC Facebook Group at www.facebook.com/FloridaRegionFJMC.
About Post Author