Spotlight On: The Temple Beth Orr Brotherhood of Coral Springs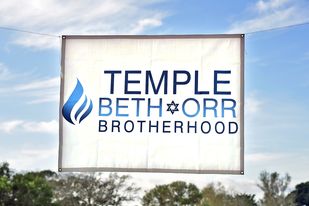 Join the Beth Orr Brotherhood today
Temple Temple Beth Orr is a dynamic and inclusive Reform Congregation located northwest of Ft. Lauderdale in Broward County, Florida, warmly welcoming singles, seniors and interfaith families. Their mission is to remove traditional barriers to membership and welcome all who wish to participate in a spiritual Jewish community though life-long learning, diverse social programming and acts of loving kindness.
The Temple Beth Orr Brotherhood was developed to inspire men's fellowship, interest in Jewish worship, Jewish studies, tikkun olam, as well as service to the congregation and the community. The Temple Beth Orr Brotherhood organizes and participates in a multitude of events throughout the year including Brotherhood Shabbat, Men's Night Out and an annual "Dinner and Adult Beverage Educational Experience". The TBO Brotherhood also participates in the Yom HaShoah Yellow Candle Program; a yellow candle and Yom HaShoah prayer is sent to every temple family which enables everyone to observe this solemn occasion.
On Tuesday September 20 the Brotherhood will hold an organizational dinner meeting at La Pizzaeria (at 441 and Sample Road). On Sunday October 2 at 10am the Brotherhood will meet at TBO to assemble and erect the Congregational Sukkah and dine on the finest Bagels that Broward County has to offer.
Looking ahead, the Brotherhood is planning many fun and exciting programs and events including a liquor tasting, Poker night, Sports Night and our wildly popular Brotherhood Night. Join the Brotherhood of Temple Beth Orr and become part of the family.
Brotherhood President Stan Bomstein invites you to learn more about the Temple Beth Orr Brotherhood at https://www.templebethorr.org/community/brotherhood/ and please visit the Beth Orr Facebook page at https://www.facebook.com/templebethorr/. For more information about the TBO Brotherhood please email Stan Bomstein at [email protected].
This message is brought to you by the Florida Region of the Federation of Jewish Men's Clubs. We serve the needs of Jewish Men's Club's and Brotherhoods throughout the State of Florida. If you are not yet affiliated with the Federation, then today is the day to join us.
Get to know more about the FJMC Florida Region and our growing statewide network of Jewish Men's Clubs and Brotherhoods at www.floridaregionfjmc.org and please visit and LIKE our Florida Region FJMC Facebook Group at www.facebook.com/FloridaRegionFJMC.
About Post Author