Spotlight On: The Temple Kol Ami Emanu-El Brotherhood, Plantation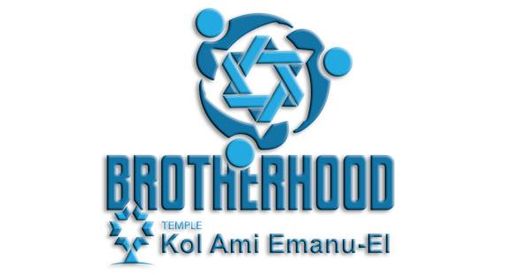 Temple Kol Ami was first chartered by the State of Florida in 1975 and joined the Union of American Hebrew Congregations (now, the Union For Reform Judaism) in 1977. In 2004, Temple Kol Ami merged with Temple Emanu-El, Broward County's historic Reform Congregation. Unifying our strengths and melding our congregations, the Temples came together to become Temple Kol Ami Emanu-El (TKAE).
The Brotherhood (TKAE's Men's Group) provides fun opportunities for male congregants to get more involved with TKAE and connect with other TKAE members by providing entertaining, engaging and enriching social, philanthropic, and cultural events. Our events are generally oriented towards Jewish events and perspectives, but some are just social.
The TKAE Brotherhood is an active group; Co-Presidents Brian Pearlman and Leo Dee invite you to put on your sneakers and join the guys for a game of Pickleball or for their monthly two-mile run. They welcome you to meet up at the Brotherhood's monthly Happy Hour get together at Tarpon River Brewing.
On Sunday, October 2 at 10am the Brotherhood will meet at TKAE to erect the Congregational Sukkah and dine on the finest Bagels that Miami has to offer. On Tuesday, October 11 at 7pm, everybody is welcome to join us for Lulavs & L'Chaims at the Sukkah Bar with Sisterhood and the Clergy. The Brotherhood also invites you to join in their Pre-Thanksgiving Happy Hour gathering on November 16, as well as the TKAE Chanukkah party at TKAE on Sunday December 18.
Looking ahead to 2023, save the date(s) and join the Brotherhood, Sisterhood and entire TKAE family for a Cruise (January 13-15), a Family Camping Trip (February 17-20), and Mitzvah Day, a Brotherhood Run and BBQ (February 26). On March 6 the Brotherhood is organizing a Purim Party (Megillah & Tequila), followed a Four-Cups Wine Tasting (for Pesach) and Havdalah on April 8 and our Lag B'Omer Bonfires & Beers event on May 8.
Join the Brotherhood of Kol Ami Emanu-El, make friends and engage in meaningful relationships that will last a lifetime.
Co-Presidents Brian Pearlman and Leo Dee invite you to learn more about Temple Kol Ami Emanu-El Brotherhood at https://tkae.org/brotherhood/ and please visit the TKAE Facebook page at https://www.facebook.com/tkaefl. For more information about the TKAE Brotherhood please email Brian at [email protected] or Leo at [email protected].
This message is brought to you by the Florida Region of the Federation of Jewish Men's Clubs. We serve the needs of Jewish Men's Club's and Brotherhoods across the State of Florida from the Panhandle to Tampa to Miami and beyond. If you are not yet affiliated with the Federation, then today is the day to join us.
Get to know more about the FJMC Florida Region and our growing statewide network of Jewish Men's Clubs and Brotherhoods at www.floridaregionfjmc.org and please visit and LIKE our Florida Region FJMC Facebook Group at www.facebook.com/FloridaRegionFJMC.
About Post Author