Spotlight On: The Temple Israel Brotherhood of West Palm Beach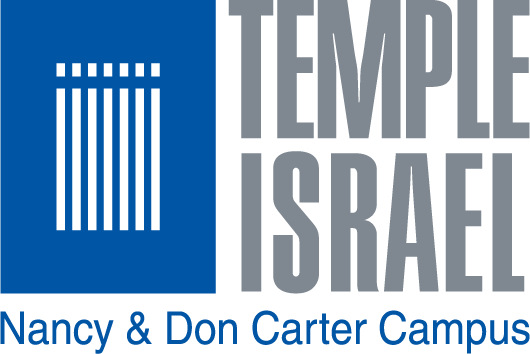 Life is Good in the Temple Israel Brotherhood
For the past several months, the Florida Region of FJMC has been traveling across the Sunshine State and doing outreach to many newly "discovered" Men's Clubs and Brotherhoods. Today we will take a trip to Palm Beach County and shine a spotlight on the Temple Israel Brotherhood of West Palm Beach.
Temple Israel is all-inclusive Reform congregation that invites everyone to join them for worship, learning, volunteering in the community, uniting to stand up for social justice and gathering together to enjoy one another's company and socialize. Temple Israel prides itself on welcoming all Jews and the important people in their lives, regardless of their prior Jewish affiliation, their gender or sexual orientation, the faith of their extended family or any disability. They are community, mindful of the the idea that each and every individual is created in the image of God; welcoming all Jews and their families strengthens the Jewish people. Temple Israel welcomes children from interfaith families and encourage sensitivity from our entire community to support our children even though they choose not to become Jewish themselves. Additionally, Rabbi Salkin performs weddings for interfaith couples.
The Temple Israel Brotherhood offers camaraderie and friendship, a greater sense of fellowship and community; bonding that extends beyond a passing hello, a quick conversation at Shabbat services or an exchange of handshakes when you bump into a fellow TI member in the workplace or socially. The Brotherhood supports the congregation and one another.
All Temple Israel members who identify as male are automatically members of our Brotherhood", however they also invite you also consider becoming a "Supporting Member" for only $36; Supporting Members help the Brotherhood to sponsor so much at Temple Israel, especially when it comes to our youth. From the first day of school's breakfast to sending a child to camp, from subsidizing our onegs to sponsoring our youth trips, the Brotherhood does many things for Temple Israel."
Recent Brotherhood activities and involvement include the Annual Family BBQ — our "ShaBaBeQue" a Shabbat Dinner and Open House, Religious School breakfasts, a Ballgame Outing to Spring Training Camp, Brotherhood Shabbat, monthly discussions, Chanukah Candles Distribution, an annual steak dinner, youth Scholarships, High Holy Days babysitting, a Teen Confirmation trip, Brotherhood Dinner in the Sukkah featuring Barry Horowitz's "Not Your Bubbe's Brisket" and more.
In the September issue of Koleynu, the Temple Israel newsletter, Brotherhood President Howard Solomon reported, "ShaBaBeQue was a huge success with over 100 participants and a great start to what I hope will be a great year for Temple Israel and our Brotherhood. The BBQ dinner was delicious and plentiful, the room looked great with photos of congregants and events through the years and so many people enjoyed seeing old friends and meeting new ones. Many thanks to all the Brothers who volunteered and to all those who attended, making this event."
Looking ahead, save the date Friday February 24, 2023 for a joint Brotherhood and Sisterhood Shabbat to remember.
Brotherhood President Howard Solomon invites you to learn more about the Temple Israel Brotherhood of West Palm Beach, Florida at https://www.temple-israel.com/get-involved/brotherhood/ and on Facebook at https://www.facebook.com/templeisraelwpb. For more information about the Temple Israel Brotherhood, please Howard Solomon at [email protected] / [email protected].
The Temple Israel Brotherhood of West Palm Beach is one of the many active, dynamic and vibrant Jewish Men's Clubs and Brotherhoods that populate the Sunshine State.
The Florida Region of the Federation of Jewish Men's Club's serves the needs of Jewish Men's Clubs and Brotherhoods throughout the State of Florida. If you are not yet affiliated with the Federation, then today is the day to join us.
Get to know more about the FJMC Florida Region and our growing statewide network of Jewish Men's Clubs and Brotherhoods at www.FloridaRegionFJMC.org and please visit and LIKE our Florida Region FJMC Facebook Group at www.facebook.com/FloridaRegionFJMC.
About Post Author