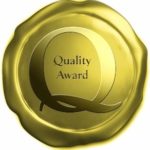 The deadline for submitting the 2021 Quality Club Award application is Saturday, May 1, 2021.  All applications must be received by then to be considered for the award.  There are often times that clubs have completed all the criteria, but because they have failed to submit the application, are not considered for the award.  Please don't be one of those clubs. Get your applications in on time!!!
To qualify for the award, your club must satisfy all six (6) of the required elements, along with at least ten (10) of twenty (20) optional elements (including at least one from each category).  Please note that being current with your membership lists and dues payments are essential requirements to achieve the award. The Quality Club Award is given each year to clubs who meet FJMC's established criteria as a Quality Club.  This criteria can be used to help your club be successful and attract new members from your congregation.
Here's the button below to access the application form.
Note: You must be logged on to the FJMC website to submit your club's application.
The purpose of the FJMC is to involve Jewish Men in Jewish Life.  It is the ideal place to connect with one another, build friendships, and provide an opportunity to support our core values of prayer, service, and brotherhood.  If you have any questions about the submission process, please don't hesitate to ask any of our Region leaders or your Men's Club local leaders.
About Post Author