! ברוכים הבאים – B'roochim Ha'ba'im !
Organizing a Men's Club Hebrew Literacy program is a low cost, low effort, highly effective way to increase visibility of your Men's Club within your synagogue as well as the greater local Jewish Community. It is a way to attract new members to your Men's Club (and synagogue) as well as to reengage with dormant members. The FJMC promotes development of Men's Club Hebrew Literacy programs and offers program resources at: https://www.fjmc.org/content/hebrew-literacy.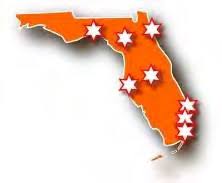 The Florida Region of the Federation of Jewish Men's Clubs has Regional Consultants available to help your Men's Club organize a Men's Club Hebrew Literacy program. We serve the needs of Jewish Men's Clubs across the State of Florida from the Panhandle to Miami. If your Men's Club is not yet affiliated with the Federation, then today is the day to join us. Get to know more about the FJMC Florida Region and our growing statewide network of dynamic Men's Clubs at www.floridaregionfjmc.org and please visit our Florida Region FJMC Facebook Group at https://www.facebook.com/FloridaRegionFJMC.