Florida's region color is orange; or "tapuz" in Hebrew.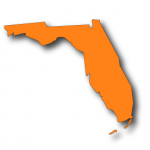 The Florida Region consists of 22 clubs and over 2,000 members. Regional business is facilitated by an elected Executive Committee. The Florida Region serves the Men's Clubs of the Conservative/Masorti Movement in the state of Florida.
FJMC (Federation of Jewish Men's Clubs) is the international umbrella organization for a confederation of more than 270 men's auxiliaries serving 25,000 men throughout 16 regions of the United States and Canada.
Also included is a recently formed International Region consisting of a club in  India (Magen David Synagogue, Mumbai India) and Chile (Centro Comunitaro B'nai Israel, Santiago, Chile).
Although our chapters are concentrated in North America, the influence of FJMC's programs and contributions is felt worldwide.
FJMC's mission is to involve Jewish men in Jewish life, but our influence goes far beyond men in the Conservative/Masorti Movement.
Our programs have a profound impact on our congregations, our youth, and world Jewry. When you consider the indirect impact of our Shomrei Ha'aretz environmental programs, all of humanity.