Essential Elements of an Effective Men's Club Newsletter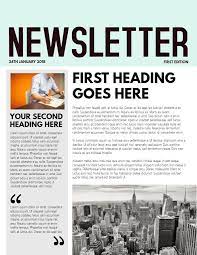 Six Essential Elements of an Effective Men's Club Newsletter
An effective Men's Club or Brotherhood Newsletter is a valuable tool that YOUR club can use to communicate with your current membership as well as to raise awareness and visibility of your organization within the greater community.  It can help your Men's Club or Brotherhood to establish credibility and a "Brand", notify your target audience of your group's activities and achievements, recent and upcoming programming and other timely and relevant information.   It doesn't matter whether you're a small or large or anything in between, an effective Men's Club or Brothehood newsletter can help build lasting relationships with your membership base. The essential elements of an effective Men's Club / Brotherhood newsletter are:
AUDIENCE KNOWLEDGE: Segment / tailor your newsletter content to your target audience. The more finely-tuned your Newsletter, the more effective your communication will be – which means higher click-through rates AKA more interaction with your target audience -current and prospective Men's Club / Brotherhood members and supporters, your Shul, the greater Jewish community, etc. As you craft your newsletter, tailor your message to reflect your audience's personality, style and interests.
GOOD CONTENT to engage your readers through diverse and interesting content that is relevant to different elements of your target audience.
STRONG SUBJECT LINE: First impressions are important and your subject line is that first impression. Your subject line should create intrigue and tell your audience what to expect as they open your newsletter.
VISUALLY APPEALING TEMPLATES: Your newsletter should be representative of you and your Men's Club or Brotherhood "Brand". Consistency is the key, and that means your logo, contact info, and all other elements should be in the same place every time. Leave room for your design elements in order to build a highly read and engaging newsletter.
CONTACT AND SOCIAL INFORMATION: Let your audience know how they can interact with your club; interact with YOU. Does your Men's Club or Brotherhood have it own website, Facebook page, email address or a telephone number? If not then how do you expect your prospective members to contact you?
CALL TO ACTION: End every Newsletter with a direct call to action – the NEXT step your target audience should take, the message you want your newsletter readers to come away with.
The poster child for an effective and dynamic Men's Club Newsletter is the "COS MENS CLUB NEWSLETTER", which earned the Ohev Shalom Men's Club of Maitland, FL a GOLD 2021 Torch Award in Club Administration.  Check out the April 2023 issue of the COS Men's Club Newsletter at: https://images.shulcloud.com/1066/uploads/Mens-Club/COSMensClubNewsletterTemplate-April2023.pdf. For more information about the COS Men's Club and/or subscribe to their award winning Men's Club Newsletter, please contact Florida Region FJMC Regional Advisor / Newsletter Editor Elliott Davis at elliottdavis613@gmail.com.  Learn more about the Ohev Shalom Men's Club at www.OhevShalom.org/organizations/mens-club/ or on Facebook at https://www.facebook.com/COSMensClub.
This message is brought to you by the Florida Region of the Federation of Jewish Men's Clubs (FJMC). We are part of a confederation of over 200 Jewish Men's Clubs and Brotherhoods representing over 20,000 members across the United States, Canada, Latin America, and beyond. Learn more about how your Jewish Men's Club or Brotherhood can affiliate with the FJMC at: https://www.fjmc.org/content/affiliating-fjmc.
The Florida Region of FJMC serves the needs of affiliated Men's Clubs and Brotherhoods throughout the State of Florida. Get to know more about the FJMC Florida Region and our growing network of Jewish Men's Clubs and Brotherhoods at www.floridaregionfjmc.org and please visit and LIKE our Florida Region FJMC Facebook Group at www.facebook.com/FloridaRegionFJMC.
About Post Author