Jewish Federation of Palm Beach County Ukraine Emergency Relief Fund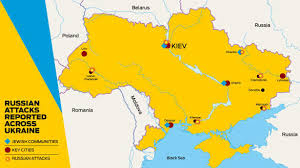 The frightening conflict in Ukraine is beyond heartbreaking to watch unfold. With cities throughout the country under fire, our focus is on protecting and caring for the more than 200,000 Jewish people in Ukraine who are caught in the crossfire. One of the world's largest Jewish populations, Ukraine is home to many elderly Jews, including thousands of Holocaust survivors.

Jewish Federation of Palm Beach County's global partner agencies, The Jewish Agency for Israel and the American Jewish Joint Distribution Committee (JDC), are on the ground providing aid and emergency assistance to the vulnerable Jewish community in Ukraine. We are also tracking potential vulnerabilities that may emerge within Russia's Jewish community.

With an established and expansive presence throughout Ukraine, Federation and our global partners are providing ongoing support to meet the immediate needs of vulnerable Jews:

| | |
| --- | --- |
| • | Food, medicine, homecare and heating supplies to withstand the country's harsh winter |
| • | Safety check-ins with homebound seniors and Holocaust survivors |
| • | Support for community centers, synagogues and Chabads, as people seek comfort and solace with their Jewish faith and community |

In addition to existing services supported by Federation, we are launching a Ukraine Emergency Relief Fund to address the extraordinary needs created by this evolving crisis. 100% of contributions to this effort are:

| | |
| --- | --- |
| • | Establishing medical centers in conflict zones throughout the country |
| • | Ensuring housing and other assistance for people who have been displaced from their homes due to the conflict |
| • | Increasing security at schools and community centers |
| | |
| --- | --- |
| • | Stockpiling food, medicine and vital supplies |
| • | Providing satellite phones for at-risk people to maintain communication and access to services |
| • | Creating a hotline for people looking to make Aliyah (immigration to Israel) |
Thank you for your care and support of these efforts during this distressing situation. Please join us in sending wishes for our global Jewish family to remain safe, and that this conflict will soon come to an end.
About Post Author