Organizing a Pub Night, or a Guys Night Out at a local brewery is a fun, easy and low cost event for any Men's Club or Brotherhood.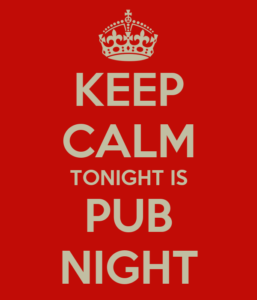 Pub Night – a great way to engage current and prospective Men's Club members.
Are you looking to plan a simple event to bring together membership and engage prospective members? Organizing a Pub Night, or a Guys Night Out at a local brewery is a fun, easy and low cost event for any Men's Club or Brotherhood.
It runs best when one Men's Club Board Member volunteers to chair the event. Firstly, the chair selects a date on a night most likely to get the largest turnout and that does not conflict with schedules of younger men and fathers (check preschool and religious school schedule), or other synagogue events or holidays. We typically scheduled dates when our city's football/baseball/basketball games played. Next, the chair selects and contacts a local pubs/bar to check for availability and if possible, make reservations. Estimate the number of attendees and reserve some tables. For pubs that do not take reservations, make sure to get there early to hold down a few tables, or designate someone else to do so. A collection of high-tops around the bar encourages freer mingling, food-sharing and ordering of bee pitchers, etc. Sit-down style events can be fun as well, but we've found that most restaurants try to put large groups and long tables.
If possible, then please invite your Rabbi and / or Temple President to attend and offer them the honor of giving short presentation on this week's Torah portion, Israel, or other items of Jewish interest.
While it is fun to select the most popular bars, it can also be successful when new or interesting establishments are selected. We've found that attendance drops if bars are too far from home, so keep this in mind. There should at least be enough room for 10-20 guys, and maybe their significant others.
In advance of your event, it let the Pub or Brewery manager know you are organizing this group outing for a non-profit; they might offer a discount for your group. Many Breweries in Florida do not sell food and allow patrons to bring their own Kosher food or snacks. Otherwise, plan ahead to accommodate your club's tolerance for kashrut. French fries or dairy-only (mozzarella sticks, pizza, etc) are good ways to respect a kosher style.
Media announcements are the next order of business. Ask your Rabbi or Temple President announce the event from the bimah. A graphic / flyer needs to be made and circulated to all men's club members, preschool and religious school parents, and should also be included in the synagogue's weekly communication. A great way to encourage new members is to specifically state in the graphic that preschool / religious school fathers are welcome, and that "the first drink is on us." At board meetings, Sunday religious school pickups, and any other times members gather at shul, board members should talk up the event. Board members should also personally invite preschool/religious school fathers to the event. It is important for one person to be assigned to be at the event first to lock in some tables. Another person should be assigned to gather everyone's name, email and phone numbers so they can be contacted personally about future events. And lastly, one person should be assigned to ensure each attendee pays their share towards the bill. An officer of the men's club should be equipped to pay for the first round of drinks and some appetizers.
For more information about organizing a Pub Night for your Men's Club as well as information about the myriad of other programs and resources offered by the FJMC Florida Region, please email RichNebb@gmail.com.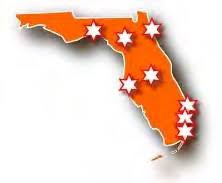 This message is brought to you by the Florida Region of the Federation of Jewish Men's Clubs. We serve the needs of Jewish Men's Clubs and Brotherhoods across the State of Florida from the Panhandle to Miami and beyond. If you are not yet affiliated with the Federation, then today is the day to join us. Get to know more about the Florida Region of FJMC and our growing statewide network of dynamic Men's Clubs and Brotherhoods at www.floridaregionfjmc.org and please visit and LIKE our Florida Region FJMC Facebook Group at www.facebook.com/FloridaRegionFJMC.

Involving Jewish Men in Jewish Life
About Post Author