Florida Delegation to the Summer 2022 FJMC Leadership Development Institute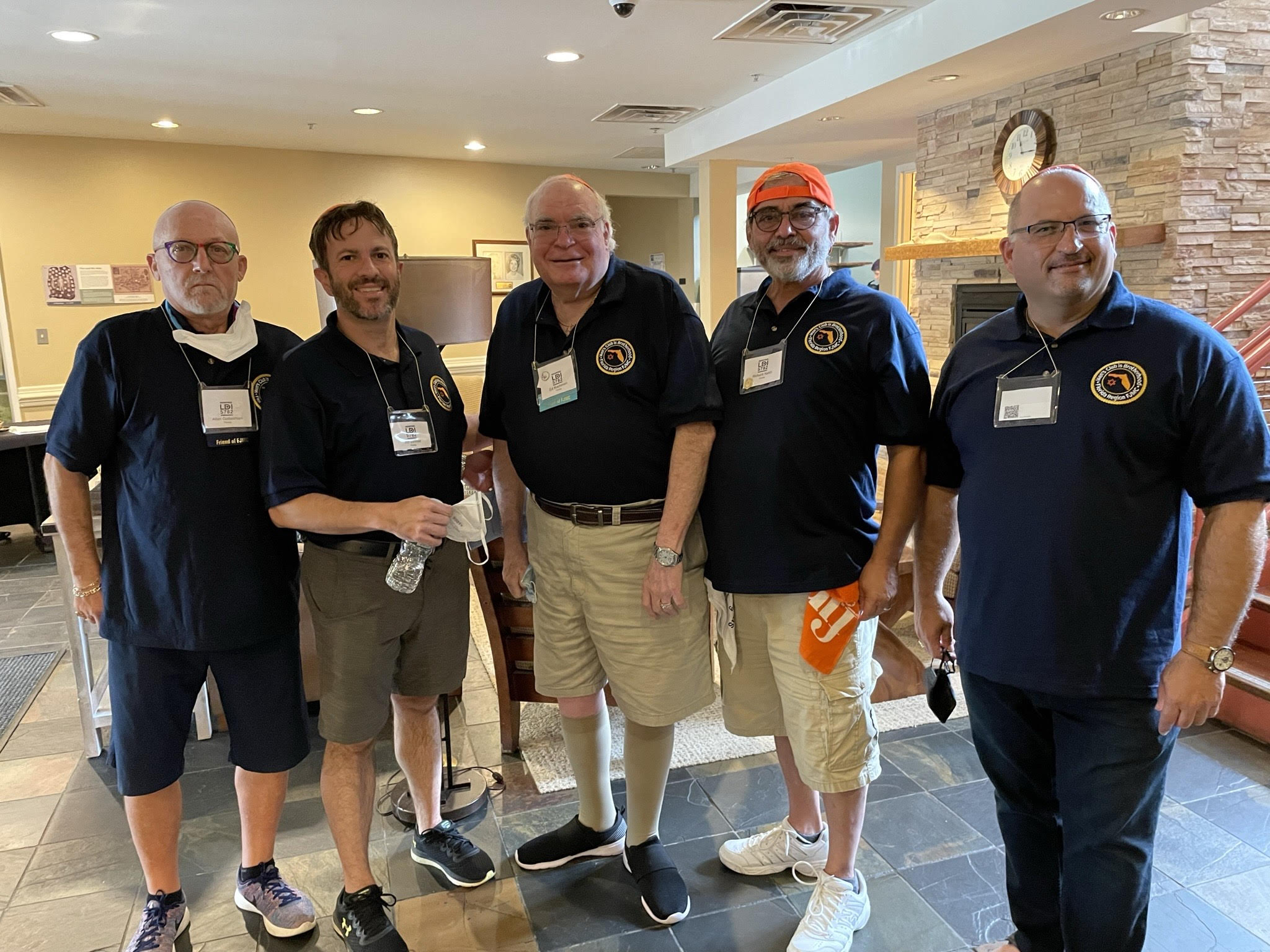 Florida Region FJMC delegation to the 2022 FJMC Leadership Development Institute
Greetings to sunny Florida – from the bucolic, green rolling hills of north central Maryland, where Allan Gottesman, Ed Kochman, Rich Nebb, Eric Perlman and Jon Zimmer are representing Florida Region FJMC at the Rabbi Joel S. Geffen Leadership Development Institute (LDI) at the Pearlstone Retreat Center.
Dr. Burton Fischman, z'l (aka Captain Ruach) and Norm Kurtz created the FJMC Foundation for Jewish Life Rabbi Joel S. Geffen Leadership Development Institute (LDI) to bring together FJMC regional leaders and a handful of emerging leaders from each of our regions for a long weekend of fun, educational and leadership development sessions to strengthen the skills of the participants, share great ideas and to build friendships.
In many ways LDI is a condensed version of FJMC Convention; three days of learning, praying, eating, training and team-building activities with FJMC and Club leaders from across the United States and Canada. LDI participants are divided into three different learning tracks; Regional leaders, emerging leaders and Executive Committee.
LDI offers an opportunity to develop and improve your leadership skills, learn innovative ideas about programming and ritual that you can bring back to your regions, clubs, and synagogues, build lifelong friendships and become part of a community of Jewish men around the world. It offers a chance to understand the leadership impact that the FJMC, Men's Clubs and Brotherhoods have on both the local and worldwide Jewish communities, learn to create and innovate when faced with the challenges shared by other clubs and regions, have a great time and make a difference in the Jewish community and the larger community as well.
Do you want to learn to be a letter leader, a better listener, a better person? The next session of the FJMC Leadership Development Institute is scheduled for February 3 to 5, 2023 and Florida Region FJMC wants your Men's Club or Brotherhood to be represented. Please send an email to Regional President Blake Lenett at Blake.Lenett@FJMC.org and tell him why you should be at the next Leadership Development Institute.
This message is brought to you by the Florida Region of the Federation of Jewish Men's Clubs. We serve the needs of Jewish Men's Clubs and Brotherhoods across the State of Florida from the Panhandle to Miami. If you are not yet affiliated with the Federation, then today is the day to join us.
Get to know more about the Florida Region of FJMC and our growing statewide network of dynamic Jewish Men's Clubs and Brotherhoods on our website www.FloridaRegionFJMC.org and please visit and LIKE our Facebook Group at www.facebook.com/FloridaRegionFJMC.
About Post Author