Spotlight On: Southwest Orlando Jewish Congregation Men's Club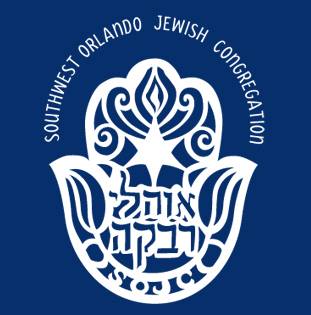 Sometimes we wear many hats. Jeffrey Imber and Ben Bolusky currently serve as Co-President of the Southwest Orlando Jewish Congregation, however their secret passion is the SOJC Men's Club.
Jeff Imber has been an active member of SOJC since 2009, volunteering with the Men's Club and being on the Executive Board. "My goals for SOJC", said Jeff, "are to rejuvenate our congregation post-Covid with a new Rabbi who is excited to be a part of our community, keep our youth engaged and provide opportunities for us all to celebrate Judaism".
Ben Bolusky is proud to be part of SOJC. "We are a very diverse congregation currently consisting of 150-160 family units and has large and active Hebrew school. Our Friday night services attract many young families and we have an active Men's Club and Sisterhood."
The SOJC Men's Club hosted many well attended programs and activities including Grand Prix and Laser Tag at Pointe Orlando, Co-Ed Volleyball, Skeet Shooting, a night at Player-One Video Game Bar, a Poker Night, a trip to a local brewery, and more.
The SOJC Men's Club planning a full slate of programming for the coming year and they want you to join the fun. On Thursday September 8 at 7:00pm the SOJC Men's Club will meet for an evening of Brotherhood, Beer, Football and Food at World of Beer, 7750 Palm Parkway in Orlando Florida. On September 18, all are welcome to help erect the SOJC Congregational Sukkah; no experience required.
For more information about Southwest Orlando Jewish Congregation Men's Club contact Co-President Jeffrey Imber at Jeffimber@Gmail.com or Ben Bolusky at BBolusky@Outlook.com. Learn more about SOJC at www.SOJC.org or on Facebook at https://www.facebook.com/southwestorlandojewishcongregation/.
This message is brought to you by the Florida Region of the Federation of Jewish Men's Clubs. We serve the needs of Jewish Men's Club's and Brotherhoods across the State of Florida from the Panhandle to Jacksonville to Miami and beyond. If you are not yet affiliated with the Federation, then today is the day to join us.
Get to know more about the FJMC Florida Region and our growing statewide network of Jewish Men's Clubs and Brotherhoods at www.floridaregionfjmc.org and please visit and LIKE our Florida Region FJMC Facebook Group at www.facebook.com/FloridaRegionFJMC.
About Post Author