Come One Come All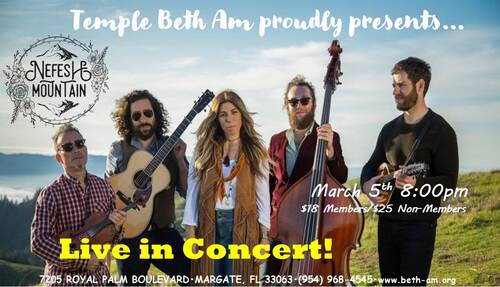 Since their arrival on the scene in 2015, Nefesh Mountain has been hailed as one of today's formative boundary pushing Bluegrass/Americana bands. They're among the first to truly give voice and openly represent Jewish American culture, tradition, values and spirituality in the world of American roots music.
Nefesh Mountain will be performing at Temple Beth Am in Margate, Florida on Saturday March 5, 2022 at 8:00pm
This event is LIVE – Tickets are only $18 for members, $25 for the general public.
https://www.beth-am.org/event/nefesh-mountain-concert1.html?fbclid=IwAR0OCF4BUtx3SEYRpYqjYJlANBC6axuKHoNsbZl5tMgFEezYX1FI7USSrEQ
About Post Author