Spotlight On: Al Treidel / Temple Beth Sholom Men's Club of Sarasota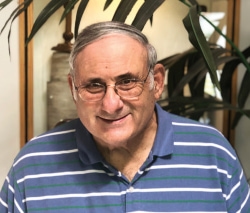 Al holds degrees from the University of Hartford and Columbia University and has served as an educator and educational leader for over 50 years. He has spent 20 years of his life serving in roles of school principal and Director of Elementary Education in the Connecticut Public Schools and an additional 20 years as director of education in various Conservative Congregations, as well as Chairman of the Easton Board of Education and President of Congregation Beth El in Fairfield, CT.
Al taught in the undergraduate program at the University of Hartford and on the graduate level at Sacred Heart University. He has been published in educational journals and was a recipient of the Solomon Schechter Award in 2017. His experience as a leader and educator made him a natural fit to become Chairman of the Program and Education Committee at Temple Beth Sholom (TBS) and ultimately, President of the Men's Club.
During Al's tenure as President, the TBS Men's Club continued to grow and thrive to over 100 members, despite the COVID epidemic. A few months ago, Al successfully engaged in leadership succession planning and passed the torch of Men's Club President to Joel Servetz.
TBS Men's Club recently launched a Men's Club Tennis "Special Interest Group" with a session at the Sarasota Sports Club. Organized by Men's Club Board member Andy Krinsky and facilitated by two of the club's resident instructors, all eight participants enjoyed a fun session of instruction and play, and several stayed later to enjoy a meal together. Both Al Treidel and Joel Servetz invite you to learn more about the TBS Men's Club of Sarasota at https://templebethsholomfl.org/Mens-Club.
The TBS Men's Club of Sarasota is a proud member of the Florida Region of the Federation of Jewish Men's Clubs. We serve the needs of Jewish Men's Clubs and Brotherhoods across the State of Florida from the Panhandle to Miami. 
If you are not yet affiliated with the Federation, then today is the day to join us. Get to know more about the Florida Region of FJMC and our growing statewide network of dynamic Jewish Men's Clubs and Brotherhoods on our website www.FloridaRegionFJMC.org and please visit and LIKE our Facebook Group at www.facebook.com/FloridaRegionFJMC.
About Post Author